I'm participating again in Spoonflower's fabric design contest. This week's theme is "Fifties", with a limited palette of 5 colors representative of fabrics from the fifties. I drew large flowers that I called "Poppies", but maybe you know another flower that would be more appropriate? I'm not an expert in flowers and I didn't use a model to design the pattern, I found it by playing a bit randomly with Inkscape, a cool open source vector drawing software.

There are 117 designs entered in the contest, many of them very well thought and done. Have a look on the contest page, and if you like my large flowers, please vote for them!



To vote: go to the contest page, click on all the designs you would like to vote for, go to the bottom of the last page and click on "Save my votes".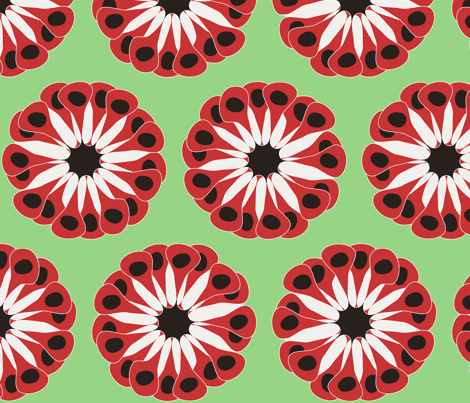 This large flower pattern will soon be available as a coloring page, and as a pattern on ScrapColoring too! You will thus be able to replace the hideous colors of the fifties by your favorite colors. :-)
More coloring pages on the same themes:
Themes :
Spoonflower