There is an exciting new feature on ScrapColoring! On top of being able to print and save your colored coloring pages, you can now choose to use them create tshirts, mugs, mouse pads, cutting boards, BBQ aprons, cork bottom coasters and many other clothing items and objects with your colored artwork! It's quick, easy and really fun!

How to create a custom tshirt with your coloring pages:

1. Select a coloring page, color it on ScrapColoring with gradients and patterns

2. Click on the new "T-shirt and mug" icon





3. Wait a few seconds so that we can generate an image with the perfect format, size and resolution for printing.

A new window appears on top of the coloring page. Click on the button "Choose your T-Shirt, Mug and More!"

4. The interface to create your tshirt appears after a few seconds. This is where the fun really begins! :-)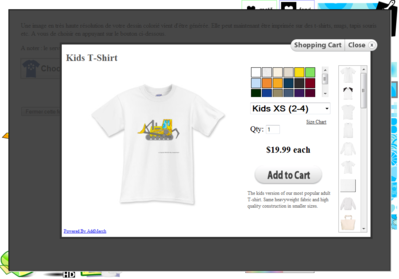 You can preview your tshirt (or mug etc.) on the left. On the right you can select the shirt color and its size.

At the very right, you can choose other items: tshirts for adults, women clothes, aprons, mouse pads, mugs etc.

5. To order your t-shirt, just click on "Add to cart". A new window or tab will open with your shopping cart. Opening the shopping cart takes 30 seconds, as a new product page needs to be created for your custom t-shirt.


Shipping and prices:

All prices are in US dollars, but you can order from anywhere in the world.

As an example, a white tshirt (adult or child) with your coloring page costs $19.99 + $4.99 shipping (North America) = $24.98.
For Europe: $19.99 + $6.99 = $26.98 (about 20.27 euros today).

If you order several identical tshirts, they will be discounted. You can also group your orders (even with different drawings) to save on shipping costs.


Apparels with dark or light colors:

For clothes with dark colors, if you leave the background white, it will not be printed. If you color it, the background will of course be printed.
For clothes with light colors, "white" is not printed, the color of the tshirt will show through.
You will always be able to preview your tshirt, no surprises then!


Creating tshirts with patterns, your choice of text or your drawings and pictures:

You can create your custom tshirt also with patterns from the patterns generator, coloring pages of your photos and drawings, and texts from the first name coloring pages. There are tons of possibilities to be creative!

Even without actually ordering, it's a lot of fun to try different combinations of pictures, colors and clothes! I hope you'll like it too! :-) Don't hesitate to save the pictures of your creations (using right click and Save As) and to include them in a comment to show them to everyone. :-)

What do you think of this feature? Do you like it? Any ideas or suggestions to make it even better?